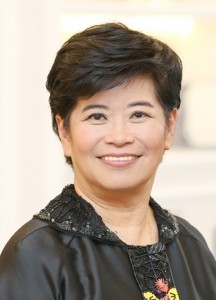 United BioPharma (UBP), a spinoff company of UBI Asia, was founded by Dr. Chang Yi Wang. Dr. Wang serves as the executive Chairwoman of the Board of Directors and Chief Scientific Officer of UBP. At the invitation of the Taiwanese government in 1998, Dr. Wang set out to establish UBI-Asia, a joint venture between United Biomedical, Inc. (UBI) based in the US and the Taiwan government. She launched a state-of-the-art protein and antibody drug development platform within UBI Asia employing monoclonal antibody B4 as a touch stone and built a competent team with integrated platform technologies to enable development of antibody products from DNA to BLA filings. Other antibody and long acting protein products followed, leading to the spinoff of United Biopharma with a group of rigorously selected antibody products.

Dr. Wang's invention, UB421, is the first antibody product in UBP's pipeline. UB421 is an anti CD4 antibody having a unique HIV competitive binding inhibition property. UB421 is currently in multiple Proof of Concept (POC) phase II trials in combination with ART for functional cure, as well as a multinational monotherapy phase III trial for ART substitution. With CD4 being an important immune modulatory molecule, this class of antibodies with characteristic features resembling UB421 have many important first-in-human clinical applications.

In addition to antibody and long acting protein products as biologics for disease treatment, Dr. Wang is a pioneer in using designer synthetic peptides in multiple biomedical applications. Her early inventions in synthetic peptide based HIV and HCV blood screening tests have sold hundreds of millions in the global market; since 2007, her first high precision epitope based vaccine against Foot and Mouth Disease in the animal health field has sold over 4 billion doses in China, the largest global swine market; her second high precision peptide based LHRH targeted immunocastration vaccine has also been launched in the global swine market. These initial inventions have provided UBI with commercialization expertise to become an industry leader in many high precision peptide vaccine applications in disease intervention as immunotherapeutics.

Dr. Wang has received several prestigious awards, including the 2007 Inventor of the Year award from the New York Intellectual Property Law Association (NYIPLA) for her high precision UBITh immunogen designs, and the 2018 Pioneer in Technology Award from the Brain Mapping Foundation for her contribution in the development of vaccines for the treatment of Neurodegenerative Diseases.
Prior to founding UBI in 1985 and its subsequent group of companies to facilitate commercialization of her platform derived inventions, Dr. Wang was a Principal Investigator and director of the Laboratory of Molecular Immunology, endowed by the Arthur J. and Leslie Levine fund, at the Memorial Sloan-Kettering Cancer Center, a faculty member at the Sloan Kettering Institute and an adjunct associate professor at the Cornell University Medical School.

During her research career in the US, she received over US$20 million in grants and contracts from National Institute of Allergy and Infectious Diseases (NIAID) and National Cancer Institute (NCI) of National Institutes of Health (NIH). Dr. Wang has over 120 scientific publications in peer-reviewed high impact journals such as New England Journal of Medicine, Lancet, Science, Journal of Experimental Medicine, and Journal of Infectious Diseases etc. and over 100 issued patents and additional pending patent filings. Dr. Wang received her B.S. in chemistry with honors from National Taiwan University and her Ph.D. in immunology and biochemistry from the Rockefeller University, New York, USA.